Bracket Clock Westminster Chime Hermle 1973 Rolling Moon Phase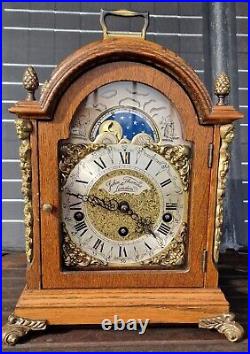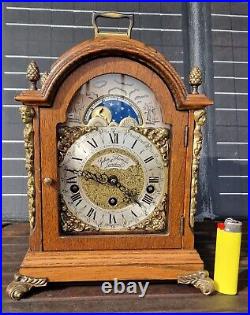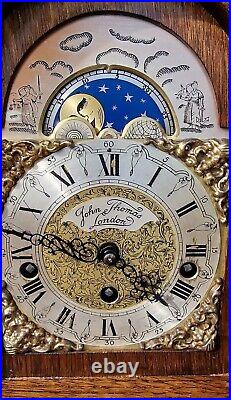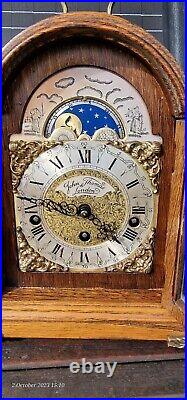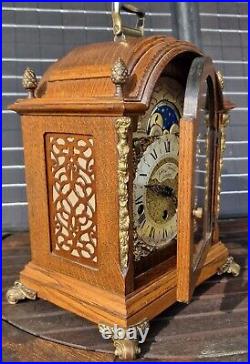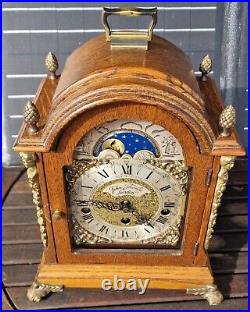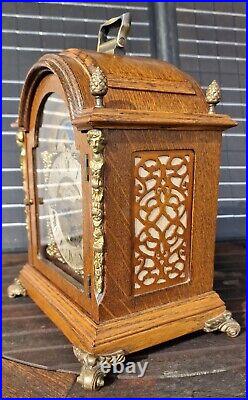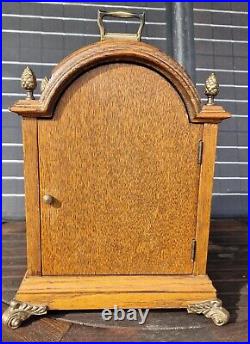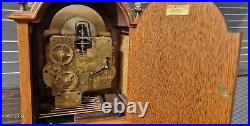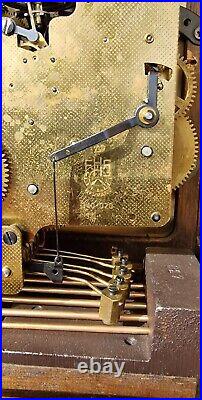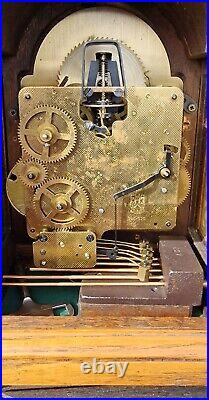 Beautiful Vintage Dutch Hermle 1973 Westminster Chime Bracket Clock. Complete With Working Rolling Moon Phase, That Rotates Over A 19.5 Day Period. This Bracket Clock Has A Beautiful Westminster Every Quarter Of An Hour Chime. Brass decoration to feet and handle and side columns. Olling moon dial with calendar.
John Thomas London to the front dial. Large wooden fretwork side panels or sound windows that enhance the sound of the Westminster Chime. The clock will run for 8 days on a full key wind. 29 cm high with handle raised.
22 cm with across brass legs. 17 cm depth across the brass feet. This clock is a used second hand vintage item and in used condition.
We post UPS to the USA. UK = 39.99 usd. USA = 79.99 usd. These charges are set by your own country.
Many of the items that we sell are classed as Vintage or Antique and therefore are not brand new out of a box, and may have minor nicks, dings, scuffs, scratches, wear due to being used over the many years. All of our listings we try to be as complete as possible with the description of the products we sell and offer additional pictures and movie footage.
The listing is completed as expected with any defects listed however this does not imply that the lot is in perfect (new in a box) condition or completely free from wear and tear from imperfections. Antique clocks after transport no matter how well they have been looked after or serviced may require setting up. Adjustments and setting into beat when you receive them and i always recommend a professional or an experienced clock person to do this correctly for you. Most clocks will be ok and will not need any additional adjustments but please bear in mind this may not be the case. For your piece of mind we test all our clocks here before they are sent out and any issues are either sorted or described in the add, the clock will not have any problems as they are tested vigorously before sending.
We do not offer any guarantee on time keeping after the clock has been sent via the postal system. We are not clockmakers, we do not repair clocks.
We do not service the clocks ourselves, we also have no service history, however if we obtain a clock that is not running then it is repaired and service by our local clock maker. We ensure they are all running for a period of 7 days before they are listed. We do not guarantee the time keeping of your clock simply due to it being posted out and subjected to harsh treatment which may effect the running. Also all parts are non guaranteed as they are original and we cannot tell is any are worn for inside.
We also have no history or any services in the past so we do advise a service and clean as you would a second-hand car. A service will ensure the smooth running of your clock for many years to come and is inexpensive.