Rhythm WSM Hamilton II Grandfather Mantle Clock Westminster Chime CRH215UR06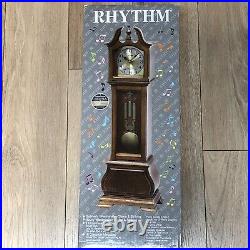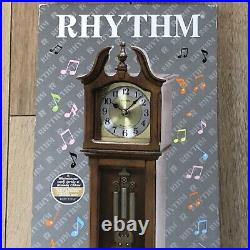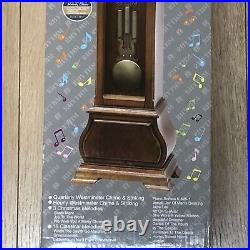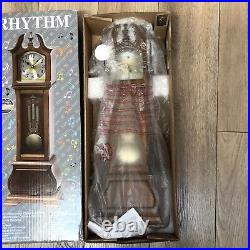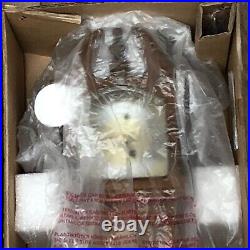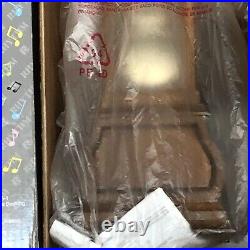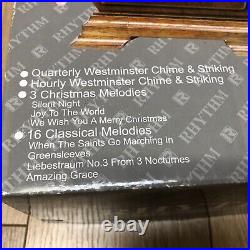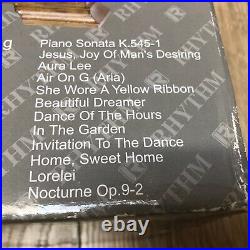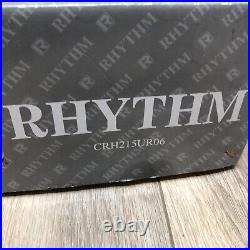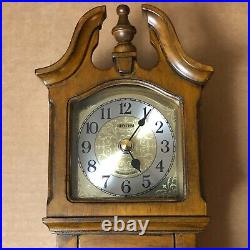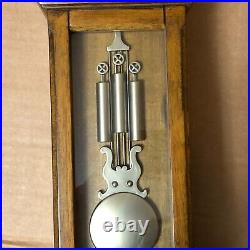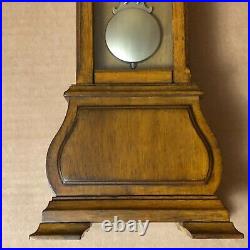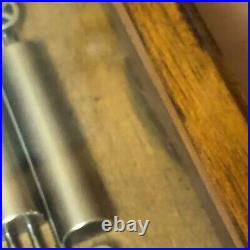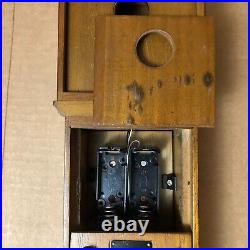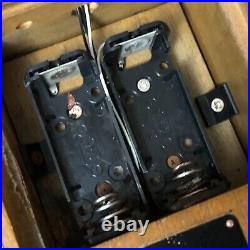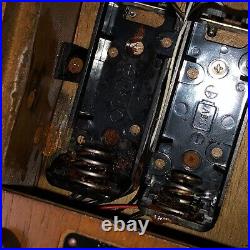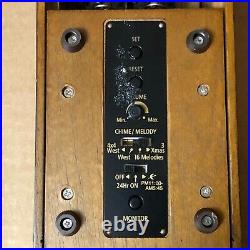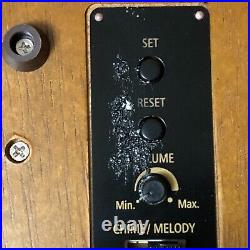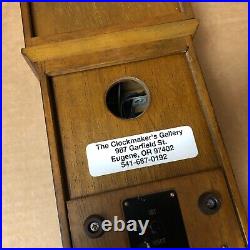 For sale is a very rare Rhythm WSM Hamilton II Westminster Chime miniature grandfather mantle clock. The clock is tested and working, and is in fantastic physical condition. Model: WSM Hamilton II CRH215UR06. Overall condition: Nearly perfect, I believe the clock had only been displayed in a glass sales cabinet before being placed back into it's packaging. No cosmetic issue to the main body of the clock or the glass.
The back of the clock has a mark on the setting panel, there's a company reference sticker on the front of the battery access panel, and a dark mark on the front of the wood panel behind the pendulum. Defect: It appears that at some point in the past, a battery installed in the clock leaked. There is congealed battery acid on and around the battery compartment. Miraculously this appears to have had zero effect on the performance of the clock, as it still runs perfect when installed with fresh batteries. I cleaned a majority of the grime but there is still some residue inside (see pictures).
Performance: Tested and fully working. Both the chime and the clock itself are functioning without issue, the volume adjusts well and can get quite loud or whisper quiet. Requires 2 C batteries to run, batteries are not included with the sale. Other Notes: Extremely rare long-retired model. One of the few miniature grandfathers Rhythm has produced, a very unique design.
The WSM movement allows you to select from Westminster chimes, 16 classical melodies, or 3 Christmas carols to play on the hour. By purchasing this item, you confirm you have read and understand the issue stated above. If you need any clarifications regarding the details above or have any other questions, please feel free to contact me. This means there is a chance the box can arrive with dings that are not present in the pictures, based on how violent the postal service is with the package. Overall condition is based off my personal assessment of the clock, and may not be 100% reflective of how you'd assess the clock yourself. Please view the provided images closely to inspect the condition for yourself, and understand there may be some wear that doesn't show up well in pictures. If you have any questions regarding specifics of the condition, please feel free to ask! Thank you for taking the time to view my listing!
Hope to see you stop by and have a great rest of your day!