Summer Special-restored Seth Thomas Antique Westminster Chime Clock No. 60-1936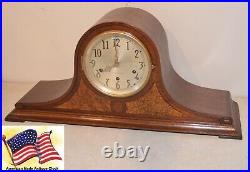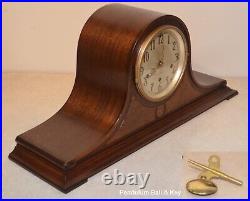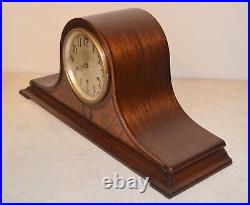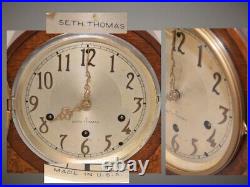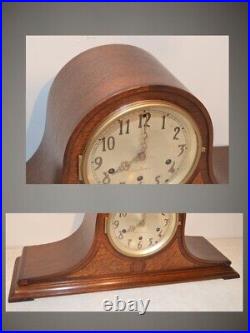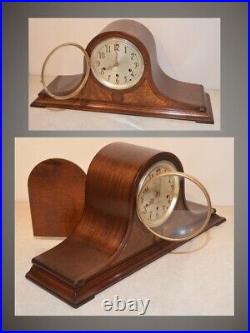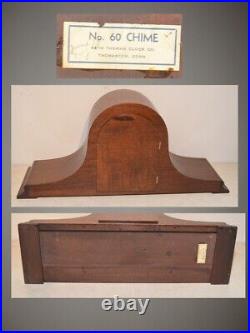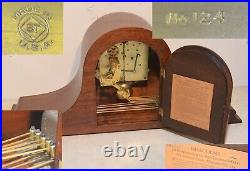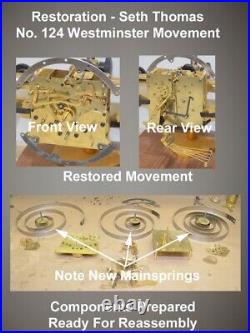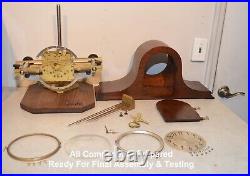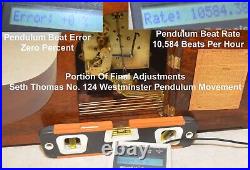 PART OF MY DNA IS THE LONG TERM AND CONTINUING PASSION FOR THE PROPER RESTORATION OF SELECTED ANTIQUE CLOCKS, PRIMARILY SETH THOMAS AND HERSCHEDE. EACH RESTORATION IS ACCOMPLISHED VIA BEST METHODS AND PRACTICES, ACQUIRED THROUGH DECADES OF EXPERIENCE, KNOWLEDGE, AND TECHNIQUES ACQUIRED. THE CLOCKS THAT I SELECT FOR RESTORATION AND SUBSEQUENT RESALE REPRESENT SPECIFICALLY SELECTED MODELS, WHICH ARE BEST CANDIDATES FOR THE RESIDENTIAL CUSTOMER, OR SMALL BUSINESS OWNER, WHO DESIRES TO OWN AN HIERLOOM ANTIQUE CLOCK, AS WELL AS TO ENJOY A TASTE OF ANTIQUE CLOCK AMERICANA. SINCERELY PRESENTED, STEVE IN SOUTH CAROLINA. E COMMERCE AUDIO FILE LINKS OF THE CHIME 60 IN OPERATION ARE INCLUDED BELOW.
BE SURE TO LISTEN AND ENJOY! "BEST OF SETH'S BEST".
VERY SPECIAL & ELEGANT WESTMINSTER TAMBOUR - THE SETH THOMAS CHIME CLOCK NUMBER 60 - 1936. WITH EACH CHIME NUMBER 60 THAT I RESTORE, I AGAIN REALIZE THAT THE CHIME 60 REALLY IS A CROSS SECTION OF SETH'S FINEST DESIGN INNOVATIONS. THIS PARTICULAR CHIME 60 HAS THE MOST WELL PRESERVED BIRDS EYE MAPLE INLAYS ON THE CABINET FRONT THAT I HAVE ENCOUNTERED TO DATE. BE SURE AND LISTEN TO THE LOVELY SOUND AND TIMBRE OF THE CHIME CLOCK NUMBER 60 - 1936 VIA THE ATTACHED E COMMERCE AUDIO PLAYER SOUND FILE LINKS BELOW, IN THE LISTING. THE CHIME 60'S SATIN PATINA OF DARK RIBBON MAHOGANY HIGHLIGHTS THE NATURAL BEAUTY OF THE WOOD ITSELF, AND COMPLEMENTS THE INTERESTING, CLASSIC AND DRAMATIC CASE DESIGN. THE SHELLAC OVER MAHOGANY FINISH HAS BEEN PROFESSIONALLY RESTORED WITH MY OWN SPECIAL PROCESS - TIME CONSUMING, YES - BUT JUST LOOK AT THE BEAUTY OF THIS LOVELY CASE WHEN COMPLETED! THE MAHOGANY CABINET INCORPORATES AN ADDITION DESIGNED TO ENHANCE THE REFLECTION OF LIGHT FROM THE CABINET WHICH ACTUALLY PRODUCES A RADIANCE NO MATTER WHAT ANGLE THE CLOCK IS VIEWED FROM. A TECHNIQUE OF VARYING THE DIMENSIONAL THICKNESS OF THE AMBER SHELLAC DURING THE PROCESS OF FRENCH POLISHING PRODUCES THIS RESULT. SUCH A PROCESS IS VERY TIME CONSUMING, YET THE RESULTS ARE VERY DRAMATIC AND APPEALING. IF YOU ZOOM IN ON ONE OF THE CABINET PHOTOS, YOU MAY BE ABLE TO SEE THE VARIATION IN DIMENSIONAL THICKNESS.
THE DISTINCTIVE BIRDS EYE MAPLE INLAYS ON THE FRONT ARE WELL PRESERVED. A REMARKABLE ACCENT TO AN ALREADY LOVELY CLOCK; NOTICE HOW WELL MATCHED AND VIVID THE BIRDS EYE IS!! TAKE A LOOK AT THE DETAILS IN THE SUPERSIZE PHOTOS.
FOR REFERENCE PURPOSES I MENTION THAT THE SETH CHIME CLOCK NUMBER 60 - 1936 IS LISTED IN NOTED AUTHORITY TRAN DUY LY'S "SETH THOMAS CLOCKS AND MOVEMENTS" THIRD EDITION, VOLUME 1, PAGE 181. FOLLOWING ARE SEVERAL OF THE SPECIAL FEATURES THAT ARE PART OF THIS LOVELY TAMBOUR. ELEGANT AND TIMELESS STYLE WITH DETAILS OF THE PERIOD. DISTINCTIVE MULTIPLE MOULDINGS FLOWING FROM THE TOP AND DOWN BOTH SIDES. RAISED PEDIMENT BASE AND CURVED ACCENTS ON EACH END OF THE BASE MOULDING.
TRIPLE BIRDS EYE MAPLE FRONT INLAY WORK. PREMIUM SILVERED DIAL WITH RAISED BURNISHED BRONZE ARABIC NUMERALS.
TAKE A CLOSE IN INSPECTION OF THE DIAL AND HANDS VIA SUPERSIZE PHOTO 4. SIGNATURE FANCY CUT BURNISHED BRONZE HOUR AND MINUTE HANDS. OVERSIZE SOUND CHAMBER WITH 5 SETH THOMAS BRONZE ALLOY CATHEDRAL CHIME RODS. TRUE MAHOGANY WITH SHELLAC PATINA FINISH.
EACH QUARTER HOUR WESTMINSTER SEQUENCE IS SOUNDED BY 4 OF THE 5 SETH THOMAS CHIME RODS, FOLLOWED BY THE HOUR COUNT ON ROD NUMBER 5. TH WIND HOLE NEAR NUMERAL 4 IS FOR THE CHIME FUNCTIONS; THE HOLE VICINITY NUMERAL 6 HANDLES THE TIME FUNCTION; AND THE WIND HOLE NEAR NUMERAL 8 HANDLES THE HOUR STRIKE FUNCTION. THE TIME KEEPING REGULATION SLOW/FAST IS VIA THE SMALLER HOLE ABOVE NUMERAL 12, AND THE CHIMES CAN BE SILENCED BY TURNING THE SHAFT AT THE SMALL HOLE BETWEEN NUMERALS 4 AND 5. BE SURE AND LISTEN TO THE CHIMES AND THE.
OPERATION OF THE #124 MOVEMENT VIA THE ATTACHED E COMMERCE SOUND FILES. YOU WILL THEN HEAR HOW CRISP, RESONANT AND PURE THE NOTES ARE, WITH NO MOVEMENT DRAG AT ALL - BRIGHT AND ZESTY, AS WAS THE STYLE IN THE LATE 1930'S. THIS TAMBOUR CLOCK IS HANDSOME IN ANY SETTING, BOTH AS AN ANTIQUE AND AS A DECORATIVE ACCESSORY. IN ADDITION, IT IS AN EXCELLENT INVESTMENT, BECAUSE ITS VALUE WILL CONTINUE TO APPRECIATE YEAR AFTER YEAR. THE CHIME 60 SITS IN GRAND STYLE AND IS A DELIGHT TO VIEW, ENJOY AND USE FOR TIMEKEEPING; THIS ELEGANT CLOCK IS ANOTHER ONE THAT I JUST HATE TO PART WITH. YOU WILL LOVE IT TOO!! PLEASE LOOK OVER THE SUPERSIZE PHOTOS TO SEE AND CAREFULLY STUDY ALL DETAILS OF THE CLOCK.
IN THE PHOTOS PLEASE NOTE THE RIBBON MAHOGANY ELEGANCE, AS WELL AS THE LOVELY AND EYE CATCHING CASE DESIGN AND APPOINTMENTS. ALSO PLEASE NOTICE THE CLEAR AND BRIGHT BIRDS EYE MAPLE INLAYS. THE SETH THOMAS #124 WESTMINSTER MOVEMENT HAS BEEN COMPLETELY SERVICED, INCLUDING: FULL DISASSEMBLY, INSPECTION, CLEANING, REBUSHING AT KEY BEARING WEAR POINTS, REASSEMBLY, LUBRICATION, AND BENCH TESTING USING ELECTRONIC AND MECHANICAL INSTRUMENTATION. THE FOLLOWING ITEMS ARE INCLUDED IN THE INSPECTION, ALONG WITH CORRECTIONS IF NECESSARY.
BUSHING AND PIVOT WEAR OR ROUGHNESS. ANY BENT PIVOTS OR OTHER PIVOT CONDITIONS. CONDITION OF ARBORS, GEARS, PINIONS. CONDITION OF THE CHIME HAMMERS AND HAMMER ASSEMBLY. CONDITION OF THE CHIME TRAIN AND HOUR STRIKE TRAIN GOVERNORS TO INSURE THAT PROPER GEAR SPEED IS MAINTAINED.
CONDITION OF THE LEATHER TIPS ON THE CHIME HAMMERS TO INSURE APPROPRIATE TONE, TIMBRE AND DECAY OF THE NOTE WHEN EACH CHIME IS STRUCK. REPLACEMENT OF OLD FATIGUED MAINSPRINGS WITH NEW FINEST GRADE MAINSPRINGS, NOT INEXPENSIVE SHORT-CUT ONES. NUMEROUS ADDITIONAL ITEMS THAT ARE COMPONENTS OF PROPER SERVICING. IMPORTANT: NOTICE SUPERSIZE PHOTO 11. ELECTRONIC TESTS ARE UNDERWAY TO MINIMIZE THE PENDULUM BEAT ERROR, AND TO INSURE THAT THE TIME KEEPING WILL REGULATE PROPERLY. THE LEFT INSET PHOTO ILLUSTRATES THE PROCEDURE FOR "PENDULUM BEAT ERROR" CHECK AND ADJUSTMENT, WITH AN OBJECTIVE OF APPROACHING ZERO. THIS RESTORED #124 MOVEMENT MET AND HELD ZERO BEAT ERROR. THE RIGHT INSET PHOTO SHOWS THE "PENDULUM BEAT RATE" CHECK AND ADJUSTMENT PROCESS.
THE CORRECT BEAT RATE FOR THE #124 MOVEMENT IS 10,584 BEATS PER HOUR. NOTE THE RESTORED MOVEMENT MET AND HELD THE PROPER RATE. THE MOVEMENT ALSO HAS AMPLE ADJUSTMENT CAPABILITY TO ENABLE THE NEW OWNER TO TWEAK THE CLOCK AS NECESSARY IN A DIFFERENT HOME ENVIRONMENT FROM MY SHOP AREA. THESE TESTS, AND OTHERS, INDICATE A VERY HEALTHY MOVEMENT. AS INFORMATION, ERRATIC PENDULUM BEAT ERROR AND/OR BEAT RATE TESTS THAT WILL NOT STABILIZE ARE INDICATIVE OF HEALTH PROBLEMS IN THE MOVEMENT.
THIS IS ANOTHER REASON WHY I ALWAYS RUN THOROUGH TESTS AND ADJUSTMENT PROCEDURES ON MY DISTINCTIVECLOCKS! THE RESTORED #124 MOVEMENT SWINGS A PENDULUM ARC AMPLITUDE WIDTH OF OVER 3 1/8 INCHES AS MEASURED FROM THE LEFT SIDE OF THE BOB AT LEFT SWING TO THE RIGHT SIDE OF THE BOB AT RIGHT SWING. THIS EXCEEDS ORIGINAL SPECS AND INDICATES A STRONG AND HEALTHY MOVMENT WITH VIRTUALLY NO FRICTION AND PLENTY OF RESERVE ENERGY. BEWARE OF A #124 MOVEMENT WITH 2 1/4 INCHES OR LESS PENDULUM AMPLITUDE ARC WIDTH; IT IS A TALE-TALE INDICATOR OF POOR MOVEMENT HEALTH! THIS IS A FULL SIZE TAMBOUR SUITABLE FOR A CENTER-PIECE MANTLE, TABLE, SHELF OR WALL BRACKET DISPLAY.
IDEAL FOR A SPECIAL GIFT, YOUR COLLECTION, OR PERSONAL USE. MEASUREMENTS ARE 21 ½" W X 9 ½" H X 6 ½ D. ALL OF MY DISTINCTIVECLOCKS SETH THOMAS ANTIQUE CLOCKS ARE FULLY RESTORED IN EVERY WAY UNLESS SPECIFICALLY STATED OTHERWISE.
MY SINCERE HOPE IS TO EXCEED YOUR EXPECTATIONS IN EVERY WAY. ENJOY THE LISTING - IF YOU NEED OR DESIRE ADDITIONAL INFORMATION, PLEASE BE IN TOUCH WITH ME, STEVE. INFORMATION ABOUT THE SOUND FILES.
FOUR SOUND FILES OF THE SETH CHIME 60 - 1936 WITH #124 MOVEMENT IN OPERATION ARE AVAILABLE. PENDULUM BEAT-ESCAPEMENT/VERGE/CRUTCH AND TIME GEAR TRAIN OPERATION SOUNDS OF THE #124 MOVEMENT - LISTEN FOR CLEAN AND EVEN SOUND, REGULARITY, AND THE ABSENCE OF ODD NOISES. WESTMINSTER SEQUENCES AT 7:15 - 7:30 - 7:45 - LISTEN FOR PURE NOTES WITH GOOD TIMBRE, RICH DECAY AND ZESTY TEMPO OF THE MOVEMENT RATHER THAN SLOW/SLUGGISH TEMPO. THE FULL WESTMINSTER SEQUENCE AND HOUR COUNT AT 8:00. AGAIN, LISTEN FOR PURE NOTES WITH GOOD TIMBRE AND RICH DECAY - AND AGAIN THE ZESTY TEMPO OF THE MOVEMENT RATHER THAN SLOW/SLUGGISH TEMPO.
IMPORTANT NOTE ABOUT SOUND RECORDING. THE MICROPHONE IS IN CLOSE PROXIMITY TO THE MOVEMENT FOR RECORDING PURPOSES, AND SOME NORMAL GEAR TRAIN OPERATION SOUNDS WILL BE HEARD.
THE OPERATION SOUNDS ARE NOT NOTICED AT TYPICAL LISTENING DISTANCES.