Warmink 8 day Westminster, Whittington, St. Michael, Moonphase, 8 Bars, Bracket Clock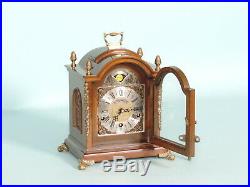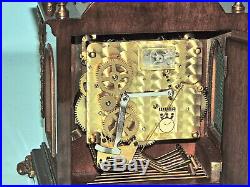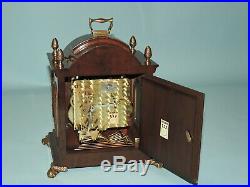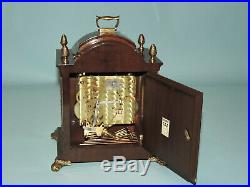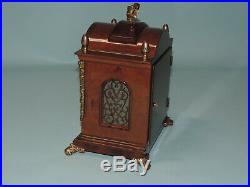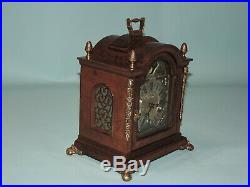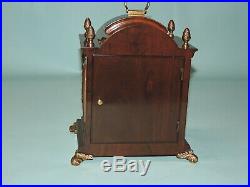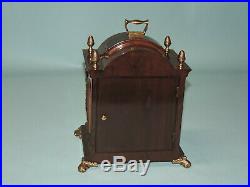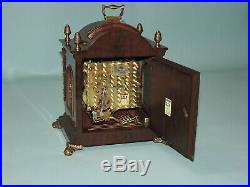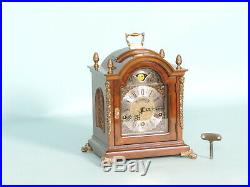 Warmink 8 day Westminster, Whittington, St. Michael, Moonphase, 8 Bars, Bracket Clock. The 8 day Warmink/Wuba movement, with 7 jewels, works fine and.
Chimes every 1/4, 1/2, 3/4 and full hour, on the number of hours with either a lovely Westminster, Whittington or St. Michael tune, with 8 bars. Between three different chiming melodies.
By very simply moving the back lever into one of the 4 available positions. There is a switch at the movement to select the desired tune or to silence the chimes at night if desired.
Measures:about 29.522.517.5cm. 11.68.96.9 inches. RARE BEAUTIFULL VINTAGE DUTCH TABLE CLOCK IN EXCELLENT WORKING ORDER. Beautiful Dial is signed Warmink and has a full working Moonphase. The beautiful Case has nice carved windows on either side of the clock, the Case is also in excellent condition.
All massive brass decorations are in excellent condition. It´s an 8 day movement, with 7 jewels and 8 bars, works really fine and comes with key.
It strikes every quart hour. Of the best dutch clockmakers. Warmink don´t exist anymore since about 30 years. After transit these clocks sometimes require to be set up again as sudden movement can slightly adjust the gong chime and escapement etc. Will help you but we are not responsible for these adjustments. The pictures are part of the description. After 75 years in business and craftsmanship dating back to the 17th century, Warmink Uhren (WUBA CLOCKS) of Almalo, The Netherlands has closed their doors forever. The Warmink family has retired.
Those items you already own are now collectors items. If you need parts, they are still available thru Clock Emporium and other such dealers. Clockmaking is not a new industry to Holland, for small family business' have existed for centuries producing the various types and styles that distinguish Dutch Clocks from those of other countries.
The "WARMINK" Company represented such an industry since it's existence for over 70 years -- producing quality clocks in the traditional Dutch styling with the most exacting standards of craftsmanship. Clockmaking still requires much handwork for perfect finish inside and out. This is shown by the beautiful hand-painted dials and the necessary workmanship to finish the oak and walnut wood, in order to obtain the fine satin gloss of the walnut that characterizes the "WARMINK CLOCKS". All this care and skill makes the creation of a Warmink clock a living tradition. The rustic charm of these lovely styled pieces and a choice of romantic chimes represents a note of distinction in every home. This Original Dutch Bracket/Mantle Clock is in used Condition and Therefore Not New. The item "Warmink 8 day Westminster, Whittington, St. Michael, Moonphase, 8 Bars, Bracket Clock" is in sale since Tuesday, July 2, 2019. This item is in the category "Antiques\Antique Clocks\Mantel/Carriage Clocks\Post-1900". The seller is "gerrit6125" and is located in Brummen.
This item can be shipped worldwide.Michael Clock
Age: 60-70 th
Material: Wood/Brass
Type: Mantel/ Carriage Clock
Features: Carriage/Mantel Clock
Sub-Type: Carriage Clock
Brand: Warmink/Wuba/Dutch
Clock Type: Bracket Clock
Style/ Origin/ Theme: Dutch
Clock Sub-Type: Mantel Clock