Waterbury Mahogany Chiming Mantel Clock Not Running Westminster Chimes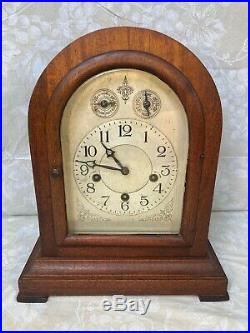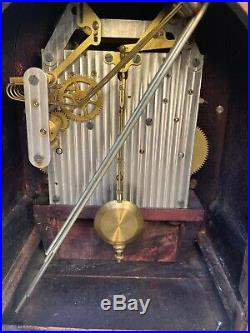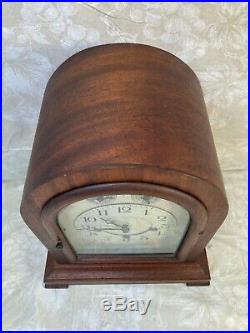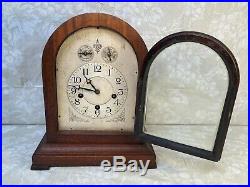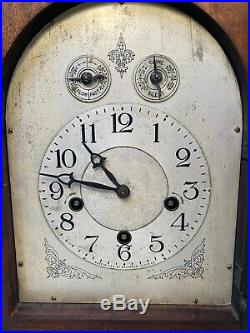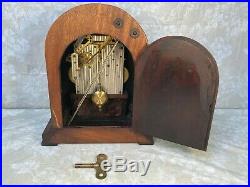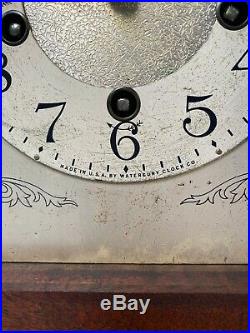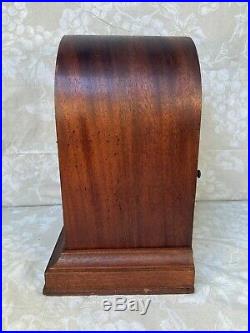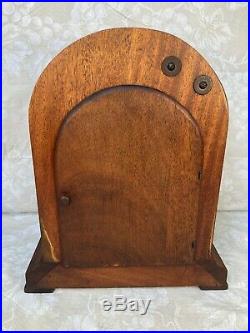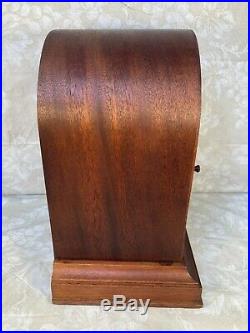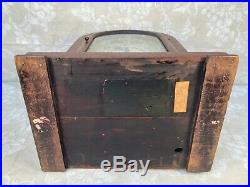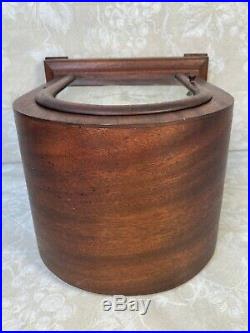 Not Running Chiming and Striking Condition. Nice older Waterbury Mantel Clock for you here.
Would make a great gift or keep it for yourself. Label is no longer on the bottom of the case. The clock is not in running condition. The clock strikes the hour, and chimes on the quarter hour when advance manually. Barrel is out of place and not doing in order that it should.
The springs are all in good order. The mahogany wood case on this clock is in very good condition. No missing parts or splits/cracks anywhere. No crazing to the clock finish.
Nice older unique hinges on the front bezel wood door of this clock. The wood legs are n place on the clock case.
The glass over clock face is still in good shape. Silver clock face shows some wear, expect it is original. The metal face is applied to another piece of metal that makes up the surround. Says Made in USA, Waterbury Clock Company at the bottom of the clock face. This clock would make a nice addition to your current antique, vintage collection of clocks.
The clock has a Westminster Chimes Unit. Does the chime every 15 minutes, and then strikes the hours on the hour. Has a 5 rod strike unit, all securely in place. Beautiful brass pendulum bob still in place. Unique way attached to the drop rod.
Beautiful silver colored ribbed metal back plate on the movement. Have not come across one like this before. No maker marks on the back plate that we observe. The clock movement will run for a few seconds but then stops. Movement may need a good cleaning or could need a couple of bushings.
The clock does strike and chime when the hands are manually advanced. Barrel or mechanism for chime is out of synch with hands, so does not chime correctly. The strike hammers need adjustment as well. The clock stands 13-5/8" tall, by 11.5" across, by 8-3/16 wide. The clock face is 5.25 across. The clock will come with a wind key.
Let us know if you have any questions or need additional pictures. If you have not had experience with old mechanical clocks before, I would suggest you steer clear. One really needs to have the patience, and skill to work with these great works of art. They are not our modern plug in and go, or change the battery clocks.
The pictures provided both complement and supplement the listing description, so please look at them very closely as well. With old items, there is no way one can capture all the little imperfections in words, so the two media are meant to be the full description. Make sure that this item meets your needs and requirements before deciding to acquire it. So, please carefully review all the attached pictures. Ask all the questions you have, come see in person or send a friend to see the item on your behalf, prior to deciding to acquire it.
Feel free to check out our other Timeless Tokens store listings. Besides clocks/watches, we specialize in vintage artwork, clocks, collectibles, musical instruments, toys/model trains, and decorative boxes. We add new listings regularly. Select countries (disclosed in individual item description).
All items are as described, with any item history, known defects or imperfections disclosed in each listing. Timeless Tokens , our online store offering antiques, collectibles, and conventional merchandise for every need and occasion. Timeless Tokens represents the fulfillment of a long-held dream to create a business that allows us pursue our passion for finding unique collectibles and everyday items that can be shared with and appreciated by all. Our listings are updated regularly and centered on items that we know best - vintage artwork, clocks, collectibles, toys/model trains, musical instruments, and decorative boxes. We appreciate your taking the time to visit our store, and hope you will provide us feedback that will enable us to make your shopping experience the best it can be.
The item "Waterbury Mahogany Chiming Mantel Clock Not Running Westminster Chimes" is in sale since Thursday, July 2, 2020. This item is in the category "Collectibles\Clocks\Antique (Pre-1930)\Shelf, Mantel". The seller is "hallboys321" and is located in Georgetown, Delaware. This item can be shipped worldwide.
Country/Region of Manufacture: United States
Brand: Waterbury
Waterbury Mantel Clock: Early 1900s
Antique Mantel Clock: Waterbury Clock with Strike Not Running Order
Westminster Chimes Clock Running: Waterbury Bracket Clock No Run, Chimes & Strikes